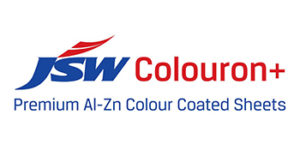 Roofing and cladding Solutions
JSW Steel introduces pre-painted galvanized trapezoidal sheets
JSW Colouron plus Al-Zinc alloy coated steel offers products with a unique blend of advantages – the strength of steel, the enhanced corrosion resistance of Al-Zinc alloys coating and an aesthetic appeal of paint. Backed by the trusted name and quality of JSW Steel, this new product is sure to add colour to the world of steel users.JSW Vishwas Plus is a durable coated steel product in which steel is coated with an aluminium-zinc alloy consisting 55% Aluminium, 43.4% Zinc and 1.6% Silicon by weight. The coating has a unique microstructure that consists of two layers i.e. the Al-Zn overlay coating and a thin intermetallic alloy at the steel/coating interface. The unique alloy coating of Aluminium and Zinc combines the best properties of both metals and makes it the preferred choice for many reasons- longevity, appearance, strength, economy, variety of applications and adaptability JSW Steel Limited's state of the art pre-painted galvanized steel facility at Tarapur, Maharashtra with an annual capacity of 1 lac tonne, offers products with an unique blend of advantages – the strength of steel, the corrosion resistance of galvanized coating and an aesthetic appeal of paint.
In line with its commitment to continually add value to its product offerings, JSW Steel Limited introduces pre-painted galvanized trapezoidal sheets for roofing and cladding applications.
It's fully automatic high speed roll forming line with hydraulic controls, offers superior quality product which are ideal for roofing and cladding of commercial! industrial establishments, workshops, airport hangers, warehouses, stadiums … to name a few.
Backed by the trusted name and quality of JSW Steel Limited, this new product is sure to add colour to the world of steel users.
JSW Colouron+ comes with Anti – Corrosion Technology that prevents early corrosion of steel and substantially increases the life of the roof.
JSW Colouron+ withstands all kinds of weather be it heavy rains, salty sea air, humid coastal areas, cold snow areas or heat.
JSW Colouron+ is made from Pure Steel. This ensures maximum strength for every sheet of the colour coated steel.
The consistency of the steel leads to very high quality and strength.
JSW Colouron+ is light weight high tensile sheet. It offers a yield strength of min 550 mpa and 770 mpa to meet the needs of various application.
The light weight, high strength combination requires lighter supporting structure and also reduces transportation cost and they are virtually maintaince free.
Superior Paint Technology
JSW uses a superior paint technology that provides additional protection for longer life. The superior paint technology resists cracking and peeling even of paint. Ordinary paint starts fading very fast and in 1-2 years the roof starts looking dull and old. It ensures that the roof looks new for many years providing additional beauty to your house
JSW Colouron+ is India's only ISI certified colour coated sheets which shows the commitment of JSW towards world class products.
JSW Colouron + comes with a thin organic scratch protection polythene film to protect the sheets from transit and storage damage. This ensures that when you install the sheets, it has a smooth surface without any scrathes or other surface damage.
JSW Colouron+ goes through more than 20 stringent quality tests to ensure best quality product is supplied to the customers.
JSW Steel is the first licensee of Galvalume in India. Galvalume products offer superior corrosion resistance compared to other coating technologies making your roof last longer even in the harshest of weather conditions.
JSW Steel uses the latest technology from all over the world, be it Japan or USA or Italy to manufacture steel and steel products.
The manufacturing of JSW Colouron+ Sheets includes latest global technologyand the best machinery to ensure the highest level of safety, long life and beauty for your home.
JSW Colouron Plus Roofing Designs
JSW Colouron Plus Roofing Colours
Need Help With Easier Industrial Solutions? We Are Experts!