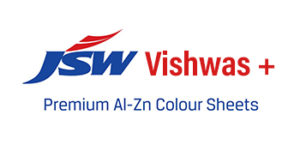 Optimized & Industry-ready Solutions
JSW Vishwas Plus is a durable coated steel product
JSW Vishwas Plus is a durable coated steel product in which steel is coated with an aluminium-zinc alloy consisting 55% Aluminium, 43.4% Zinc and 1.6% Silicon by weight. The coating has a unique microstructure that consists of two layers i.e. the Al-Zn overlay coating and a thin intermetallic alloy at the steel/coating interface. The unique alloy coating of Aluminium and Zinc combines the best properties of both metals and makes it the preferred choice for many reasons- longevity, appearance, strength, economy, variety of applications and adaptability.
Heat Reflectivity Plus
The higher heat reflectivity of Aluminium-Zinc alloy results in energy efficient buildings and appliances. To the consumer, this means lower energy costs. Its bright and shiny surface reflects twice as much heat and light as galvanised, and acts as a shield in roofing, keeping the building cooler. It has better resistance towards oxidation and can withstand temperature up to 315 ° C without discolouration.
JSW Vishwas Plus sheet is an ideal choice for roofing and cladding application because of its superior strength. The excellent life of JSW Vishwas Plus sheet makes it suitable for a variety of applications.
Corrosion Resistance Plus
It provides two to four times longer life than galvanised coating under the same exposure and superior cut edge/scratch protection than aluminium-coated sheet. This means longer service life for buildings, appliances or parts made from JSW Vishwas Plus.
Standing Water Resistance Plus
With design trends shifting towards flatter roofs on pre-engineered metal buildings, superior resistance to standing water corrosion is an important characteristic of JSW Vishwas Plus.
Retention of Appearance Plus
The shiny surface of JSW Vishwas Plus maintains its brightness for extended periods even if exposed to moderately high temperatures (up to 350 °C). Thus Zinc Aluminium coating gives better return on your investment.
Uniform Pitch and Depth Plus
Lower overlapping results in lesser number of sheets required for roofing/cladding.
Environment-friendliness Plus
Higher heat reflectivity makes it environmentally friendly because it helps lower atmospheric temperature.
As per the studies conducted by the Environment Protection Agency, higher atmospheric temperature contributes to greater smog formation and reducing atmospheric temperatures by a few degrees can help reduce smog.
Low Maintenance Plus (LOW LIFE CYCLE COST)
JSW Vishwas Plus lasts longer, requires less maintenance and offers exceptional value, making it an ideal alternative to traditional non-metallic roofing. When properly installed and maintained, it can provide long periods of trouble-free service.
Aluminium is 55% by weight but 80% by volume resulting in more surface area coverage in the same weight.
Super-safe Staggered Packing Plus
Specially designed three-layered packing with staggered stacking of sheets for complete protection. Also permits easy counting of sheets.
Need Help With Easier Industrial Solutions? We Are Experts!